Here are highlights from my orders and experiments, as well as photos of random beautiful things. All taken in the past year or so. These are the Images that got the most love on my Instagram.
Best 9 Rings
(scroll down to see details of each).
Several of this years bespoke rings used the customers own gemstones and gold. New life was given to old family jewellery and gems stashed away for decades after travelling to exotic places. Making new wearable things from unloved bits of jewellery is very satisfying!
Best 9 (non silver) Instagram.
As an antidote to sitting still focusing of tiny, shiny things for hours on end, I go for long walks and take photos whenever I can. Many things I capture give me ideas for things I'd like to make. When time allows, these photos get translated into silver, it usually it takes months or sometimes years.
Instagram is a good place to edit, filter and share the best of these photos. Colours, textures or patterns kept safe and accessible for future design reference.
Best 9 (Non Rings) Silver of 2018
(scroll down to see details of each).
Orders for bespoke rings have taken up most of my workbench time this past year. Here are a few photos of things other than rings, that got love on Instagram.
I got a little more time for enamelling (not nearly as much as I'd like!). I'm hoping to find time in 2019 to try Plique-a-jour again, something I've not done for years - using the coloured enamel to form tiny transparent sections in silver frames (think miniature stained glass) a fiddly, tricksy technique but So satisfying and beautiful when it works!
With a lots of practise I got a little better at the art of Keum Boo (another fiddly technique, fusing pure gold leaf to silver). And I got a bit carried away designing some dragonfly wings!
I'm hoping for a peaceful year with fewer distractions than the previous few.
Live in hope! Happy New Year Everyone!
Details
Aquamarine Circles Pendant
Concentric circles pendant, a variation of an old design. I had an order for one so I took the opportunity to make a couple of spares (at the time of writing this one is still available!
Burnt textures
Inspired by the love of a beautiful, big burnt log, I've started collecting burnt textures and imprinting them in silver... I'm planning on combining them with some of my rough raw amber. Watch this space!...
Fuzzy Blue Elderflower Moon!
I've had a few failures combining etching and enamel - the colours don't always come out as clear and bright as I'd like. but this little guy came out nicely! Fuzzy Blue Elderflower Moon!
Dragonfly Wing.
Dragonfly wing sample, oxidised with gold leaf sections. This is a prototype/sample for a custom order - a Whole dragonfly set with recycled diamonds. I got a bit carried away with the design for this one so I'm going to make a few. . .
Black & Gold Winter Branches
Topaz Circles Pendant
Another concentric circles pendant, this one with a a mix of deep, teal and light blues and set with a topaz. I'll be happy to make these in any colour with any stone. See a similar ones here.
Dragonfly Wing Earrings
These earrings got snapped up fairly quickly but I'll be making some more Dragonfly wings soon!
Daisy Chain Necklace
Detail from a daisy chain Necklace, now with a very happy customer! These can be made to order (with any number of daisies).
Ethically sourced Sapphire River Ring.
Mismatched Blue Sapphires set in 22ct eco gold - Yum!
Ruby-River-Blingy-Ring
Ethically Sourced Rubies in shades of pink - made to measure for a lovely repeat customer.
Upcycled Emerald and diamond ring.
Custom Made Ring for a very happy bride to be! She had beautiful blue-green highlights in her hair to match the Emerald.

The recycled gemstones came from old family rings. The silver and gold was also recycled.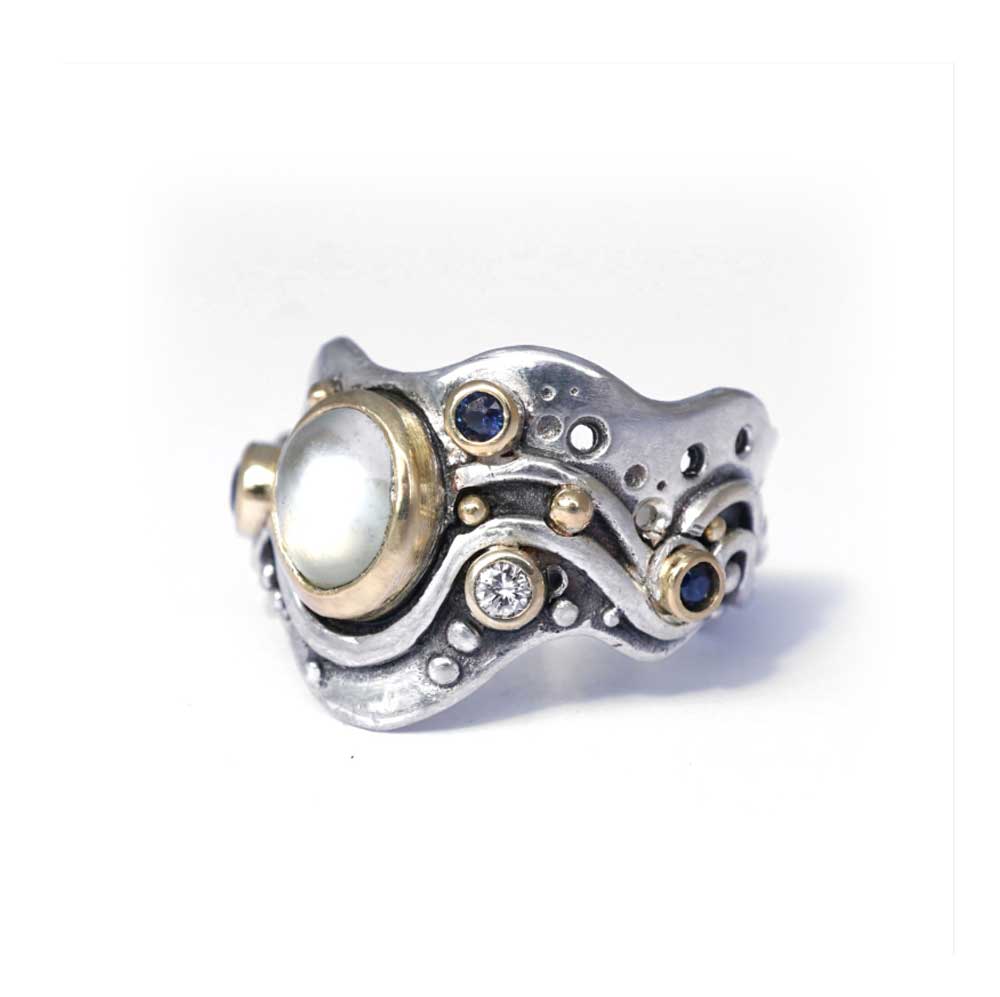 Meandering river ring
Made with old unloved rings - Milky moonstone, diamonds and deep blue sapphires, set in recycled gold. Now with a lovely happy customer.

Budding Branches Rings
Wedding ring upgrades made this summer made in contrasting gold and silver with granulation and ethically sourced diamonds.
Recycled Wedding Bling!
Made from an old unloved diamond earstud & half an unworn wedding band.

Aqua & Sapphire ring
Made from gemstones the customer bought while travelling in India in 1986! & her old wedding band. They finally found a home on this textured band.
Zingy-Blingy_Sparkly-Stream Rings!
Made to measure rings with a choice of gemstones. The Aquamarine ring is still available!